A festival dedicated to artists creating with augmented reality, Palais Augmenté takes over the new Grand Palais Éphémère in Paris on 19th and 20th June 2021. Fabbula commissioned 6 artists and schools (ECAL, Gobelins) around a simple idea : reclaim the public space and share with the public a diversity of perceptions of the Grand Palais Éphémère.
Thank you Fisheye and RMN Grand Palais for organizing this and letting us play at such a scale !
Programme
As the public strolls through the space, they discover works by Mélanie Courtinat, Lauren Moffatt, Mélodie Mousset, Manuel Rossner and Théo Triantafyllidis.
Designed for this event, their virtual works are displayed in the monumental space of the Grand Palais éphémère, each in their own way: gigantic, animated or interactive, they manifest their presence to the public through the screens of everyone's smartphone.
Two shcools are invited as well. More than 12 students from  ECAL/École cantonale d'art de Lausanne took part with a series of AR Instagram filters that are playing with the facade of the Grand Palais Éphemere building, fully taking up the public space. A team from the Gobelins/École de l'image has created an AR speculative garden integrated into the interior tour.
In the hands of the artists, AR becomes a space of freedom and creation: new ways of feeling, anticipating future worlds and showing forms of connection with one another.
Mélodie Mousset
HanaHana AR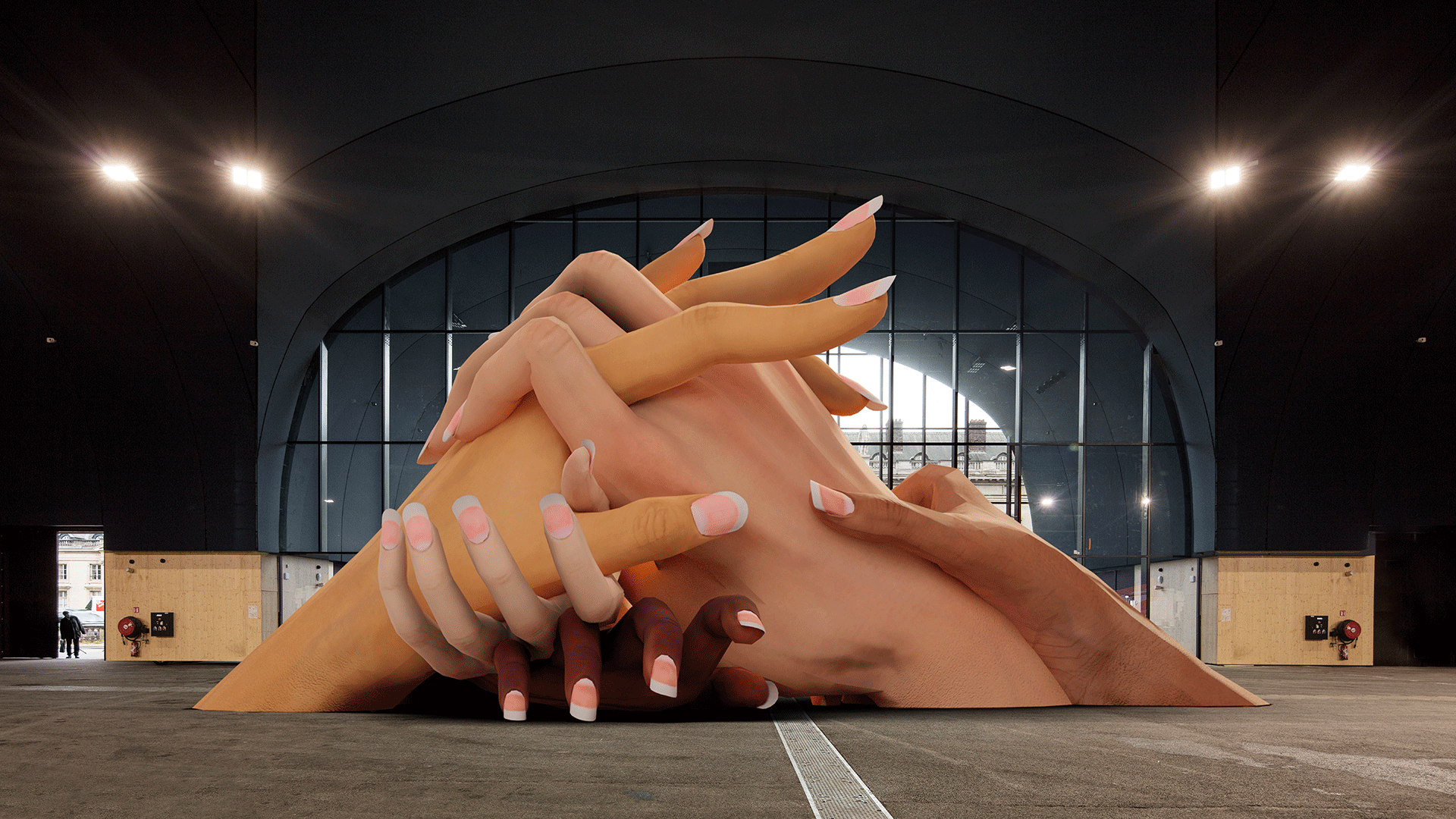 HanaHana is a virtual and augmented reality experience that has been in constant evolution since 2016. Centered on corporal construction, this piece, by way of an interactive and collaborative game, constitutes a fantasy-like immersive environment.
Everyone can generate shapes and leave a trace of their journey in this desert inhabited by archaic sculptures, in which human hands bloom in all sizes and colors. In this surreal world, arms are not only extensions of the player's bodies, players who can teleport within this world and multiply their own bodies outside of themselves, they also are building units that let them leave a trace in this collective sandbox.
The exhibition space thus becomes a shared space, on the border between the intimate and the public.
Lauren Moffatt
Contre-Plongée
(Flowers for Suzanne Clair)
With Contre-Plongée, Lauren Moffatt transforms the Grand Palais éphémère into a greenhouse inhabited by fantastic flowers, with the observer reduced to the size of an insect. This piece invites visitors to explore displaced imaginaries, where humans are rendered insignifiant by their non-human counterparts and can therefore appreciate multispecies interconnection.
Plants and flowers in this AR piece were created by hand painting and digital techniques (photogrammetry scanning). The macroscopic scale of brushstrokes, usually seen from afar, gives the impression that we are microscopic, revealing details easy to miss from our human point of view.
Flowers for Suzanne Clair is a body of work on the relationship between human and non-human, rooted in contemporary issues such as speculative fabulation, JG Ballard or Ursula Le Guin.
Theo Triantafyllidis
Genius Loci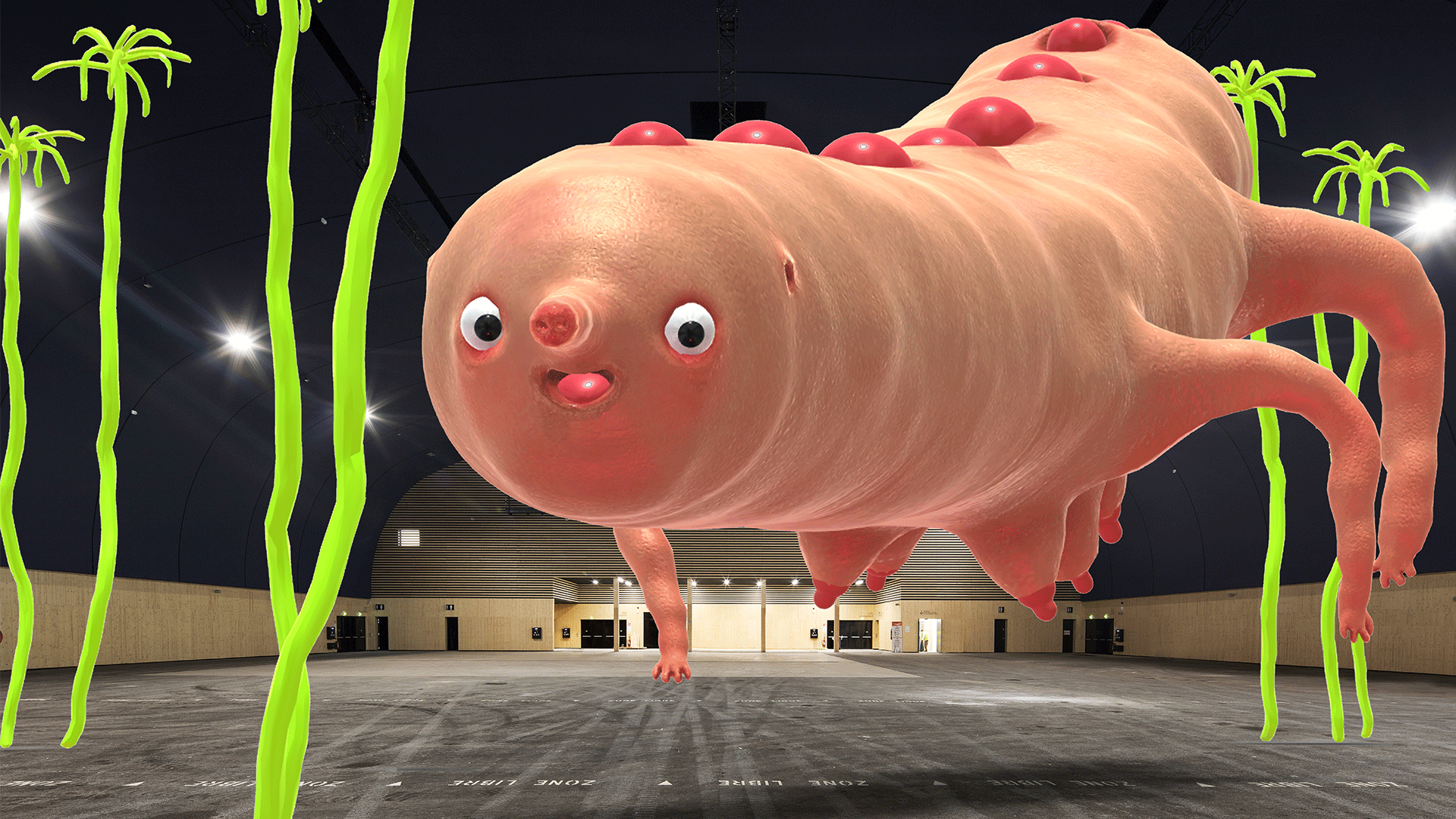 Genius Loci, an augmented, large scale and site-specific installation, is a playful and cheeky interpretation of the concept of Genius Loci (the "spirit of a place" in architecture).
A giant creature inhabits the Grand Palais éphémère, floating, relaxing, or talking to itself and visitors. Arrogant, sexy and sly, the creature is visible in AR to anyone's mobile phones and tablets and visitors can interact with it via touch screens.
Manuel Rossner
Where to go from here?
"Where to go from here?" by Manuel Rossner is a circuit of digital sculptures that leads through the Grand Palais éphémère. The visitors experience the installation through the screen of their smartphone by following an avatar in augmented reality. Rossner leads visitors to the limits of the physical and virtual world.
Where are new technologies leading society? The Champs de Mars welcomed the 1878 World Exhibition. An event where people came to learn about the state of technological developments. Rossner reacts to the once innovative techniques from the time of industrialisation with his dynamic algorithms. Its sleek aesthetic, the "signature of the present" (Byung Chul-Han), represents the digital age in which speed, flexibility and gamification are idealised.
Rossner's AR installation "Where to go from here?" shows how technology influences the world through gamification and how the ease of play becomes an expectation in everyday life.
Text: Anika Meier
Mélanie Courtinat
Des empreintes sur la grève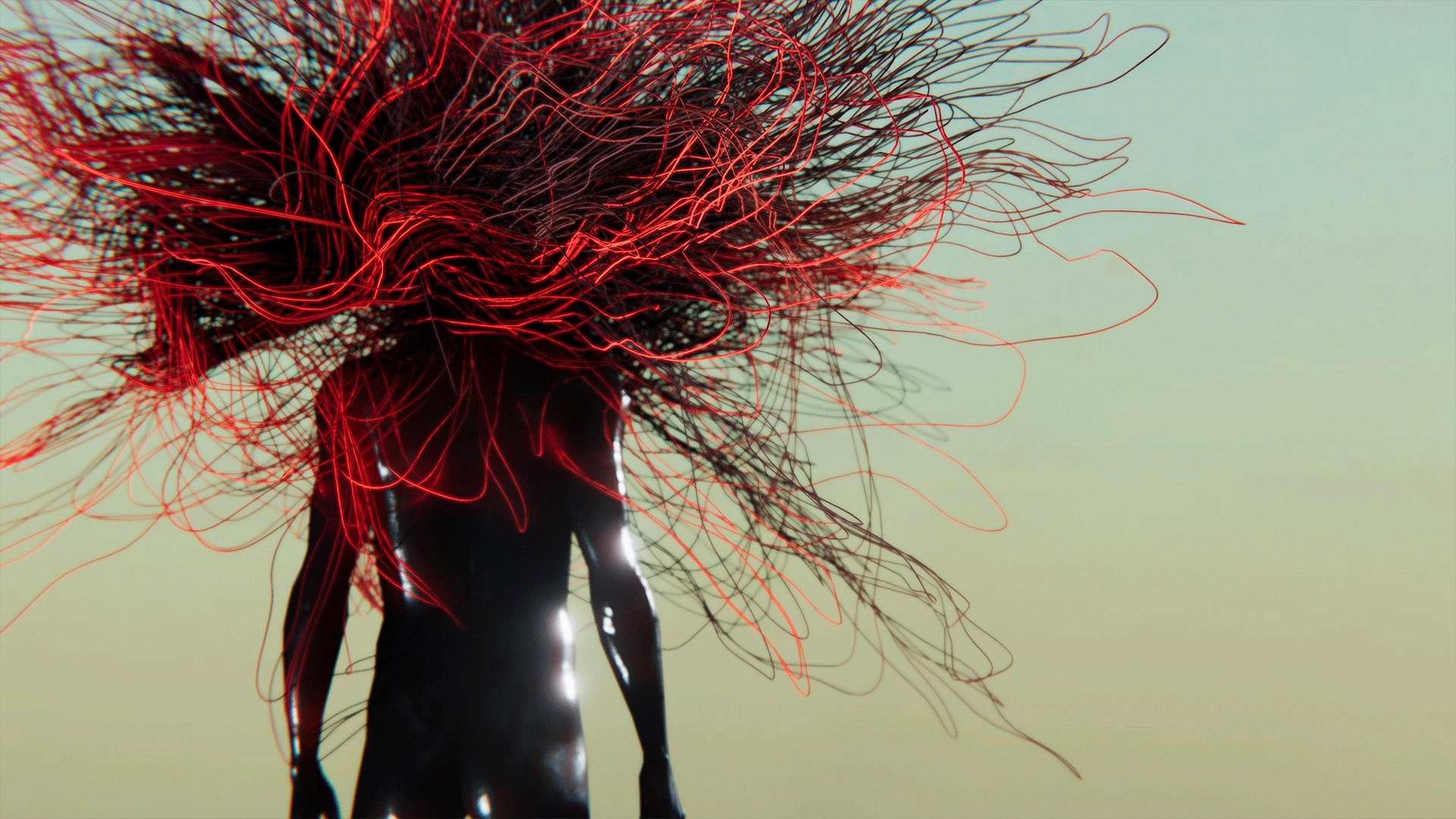 Des empreintes sur la grève (Footprints on the shore) is a multi-user interactive installation in augmented reality. Visitors are invited to stroll between reality and virtuality, and to experience a space in constant evolution. They leave behind them a trace of their passage, a silhouette with which following visitors can "connect".
The piece is in line with the author's work around video game mechanisms, and questions here the notion of "ghost" in racing games, and more generally questions the notion of presence within a virtual space.
Les Gobelins
Japosta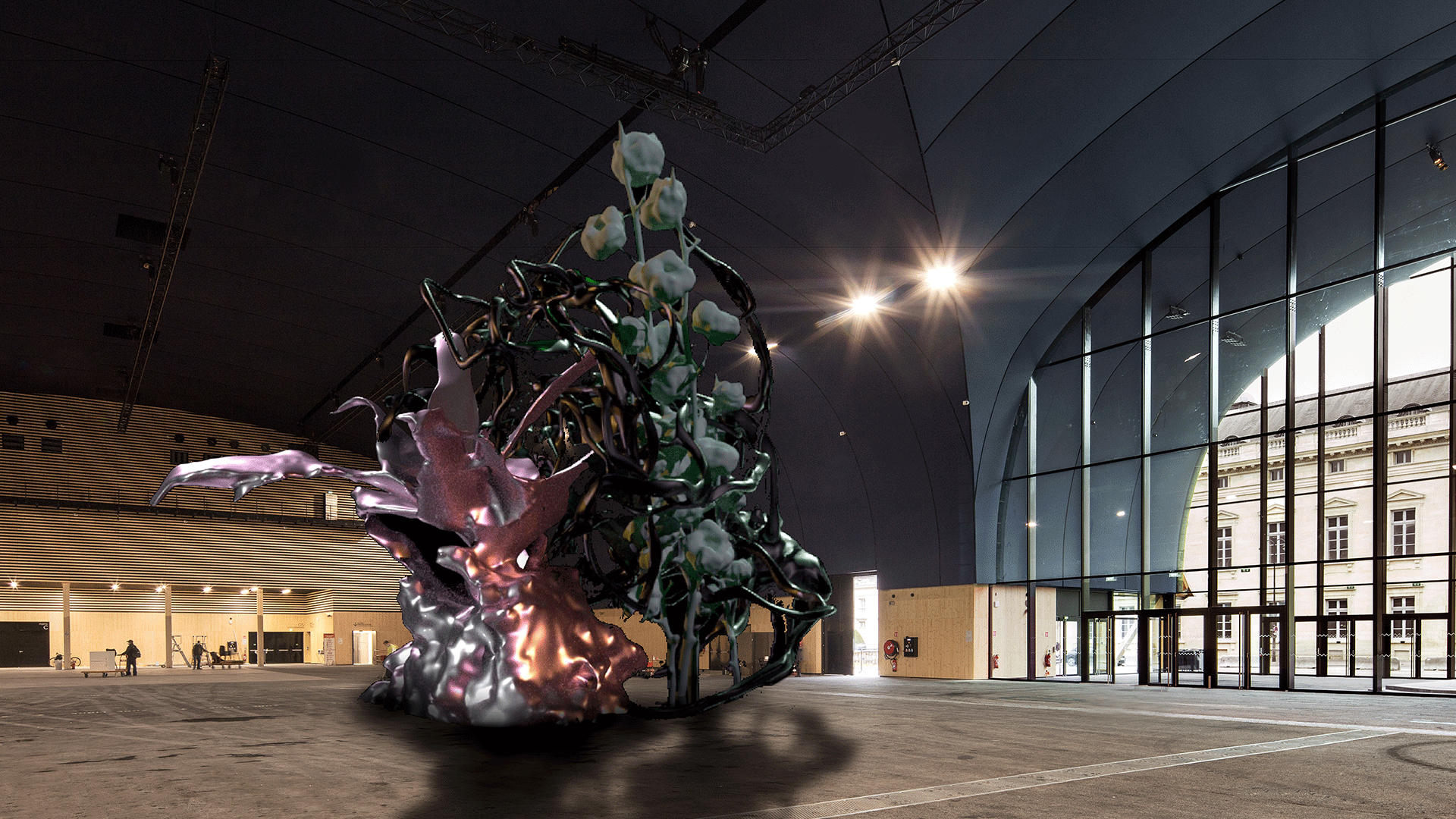 In a future world, the Grand Palais Ephémère returns back to nature, and life comes to tease the architectural remains, in a process of inevitable reappropriation. Brutalist pyramids rise to the sky, like temples of an upside down world, last witnesses of a dying anthropocene.
With works by Constance VALERO, Pierre MOULIN, Héléna DELAMARRE, Thomas MALABRE, Anthony GOURIOU, Auriane FISHER DE GUILLEBON, Philomène MERCURI, Cassandre GABARD, Lucie MARION, Olaf WISSER, Emma MARTEGOUTTE, Charlotte AUDAY, Esther MANGEL, Florentin SERVOT, Louison BOUCLY under the supervision of Fabrice LAROCHE, Lola B.DESWARTE and Léonard ALLAIN – LAUNAY.
École cantonale d'art de Lausanne (ECAL)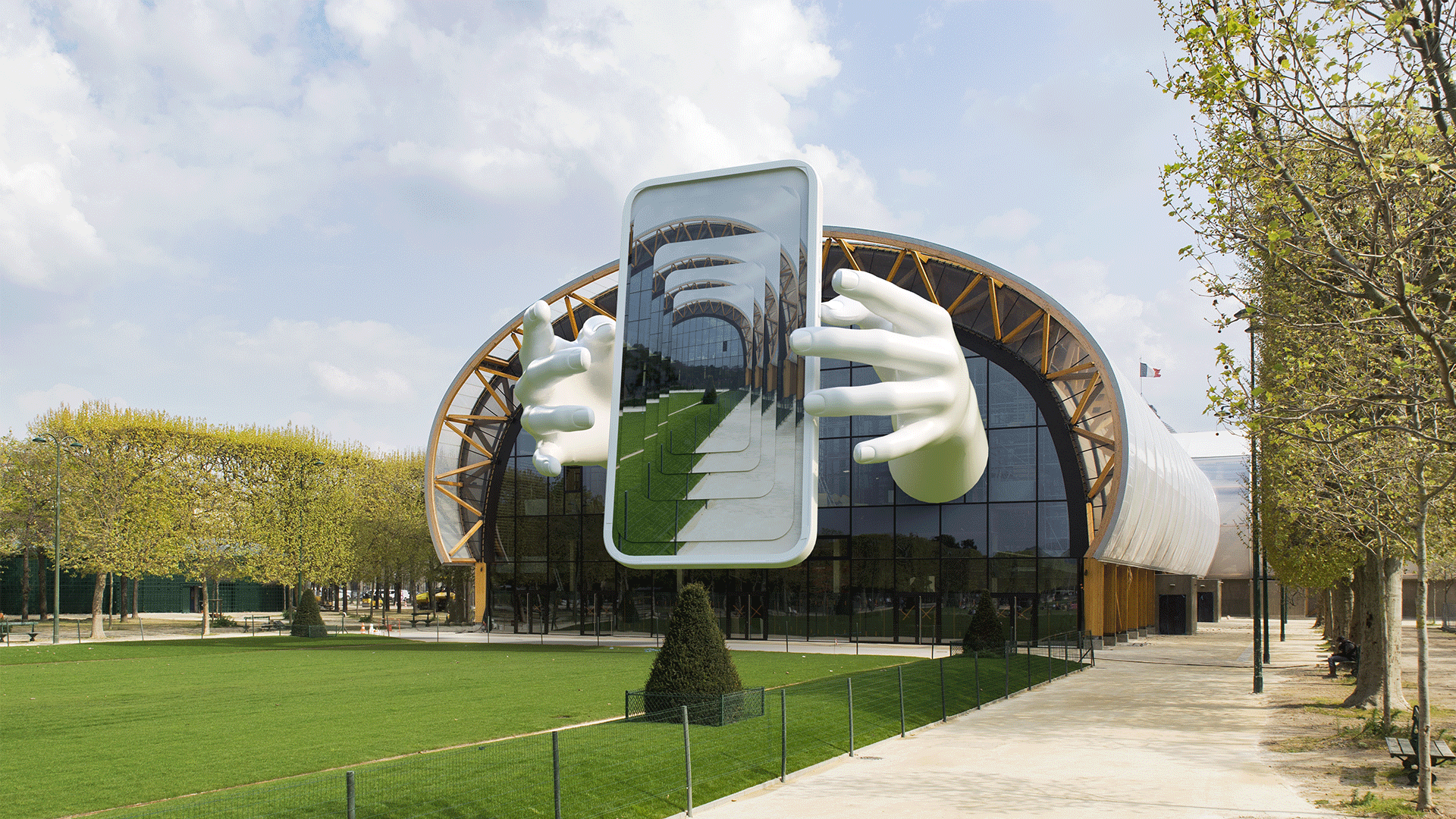 Under the supervision of Milo Keller, Head of the Master Photography programme, and Pauline Saglio, Head of the Bachelor Media & Interaction Design programme, students from these two departments have transformed the appearance of the new Grand Palais Éphémère through visualisations accessible to the public via their smartphone screens.
Supervised by designers Robin Bervini and Kylan Luginbühl who provided technical and formal support, the students have developed a collection of filters accessible from Instagram, allowing a twofold reading of the building. By enhancing the perception of the venue in real time thanks to the superimposition of visual concepts with eclectic references, the Grand Palais Éphémère is staged in a variety of imaginary worlds: futuristic, surrealist and above all playful.
For several years, the democratisation of the smartphone and the emergence of development tools accessible to the general public have enabled augmented reality to develop, becoming a field of experimentation and an ideal means of expression for designers and artists. Its use in the public space, independent of the opening hours of exhibition venues, offers easy accessibility and is widely disseminated thanks to social networks and their photographic filters, which constitute an ideal platform for augmented reality.
With works by students and assistants: Emma BEDOS, Robin BERVINI, Antoine CONTRERAS, Basil DÉNÉRÉAZ, Salomé DOTTER, Nora FATEHI, Mélanie FONTAINE, Nikolai FRERICHS, Jamy HERRMANN, Pierry JAQUILLARD, Rayane JEMAA, Augustin LIGNIER, Kylan LUGINBÜHL, Achille MASSON, Michael PICA.
About
Fabbula is a cultural practice dedicated to immersive media (virtual reality, augmented reality, mixed reality). We curate art shows, represent artists and advise cultural institutions.