Fabbula is proud to announce its collaboration with artist Mélodie Mousset. Currently exhibited in Paris at the Centre Culturel Suisse, her immersive artwork HanaHana is represented by Fabbula.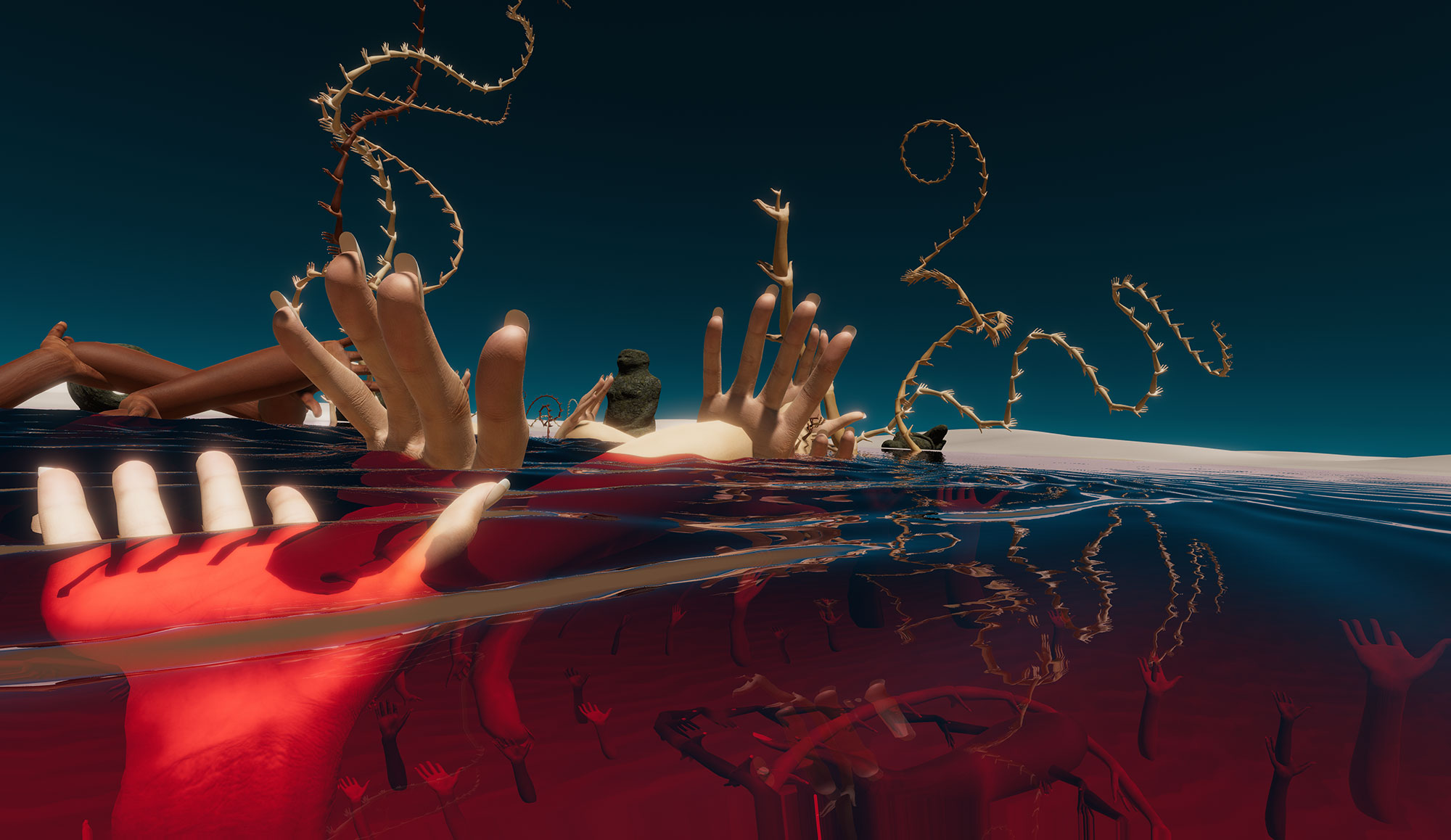 The body and its constructions—biological, cultural, individual and collective—is at the centre of Mélodie Mousset's research. Taking as much from medical imagery techniques as from archaic beliefs and rituals, she seeks to seize her own body, tries to access to its depths.
In 2014, for her first virtual reality experiment We were looking for ourselves in each other (Organ Island), Mélodie Mousset performs a medical imaging of her internal organs. Her heart, brain and liver, oversized, arise in a desert on a virtual island as an internal portrait of the artist that could be visited. Later on, with HanaHana, Mélodie Mousset pursues her research on embodiment, empowerment and technology, by creating a playful, interactive and collaborative immersive work.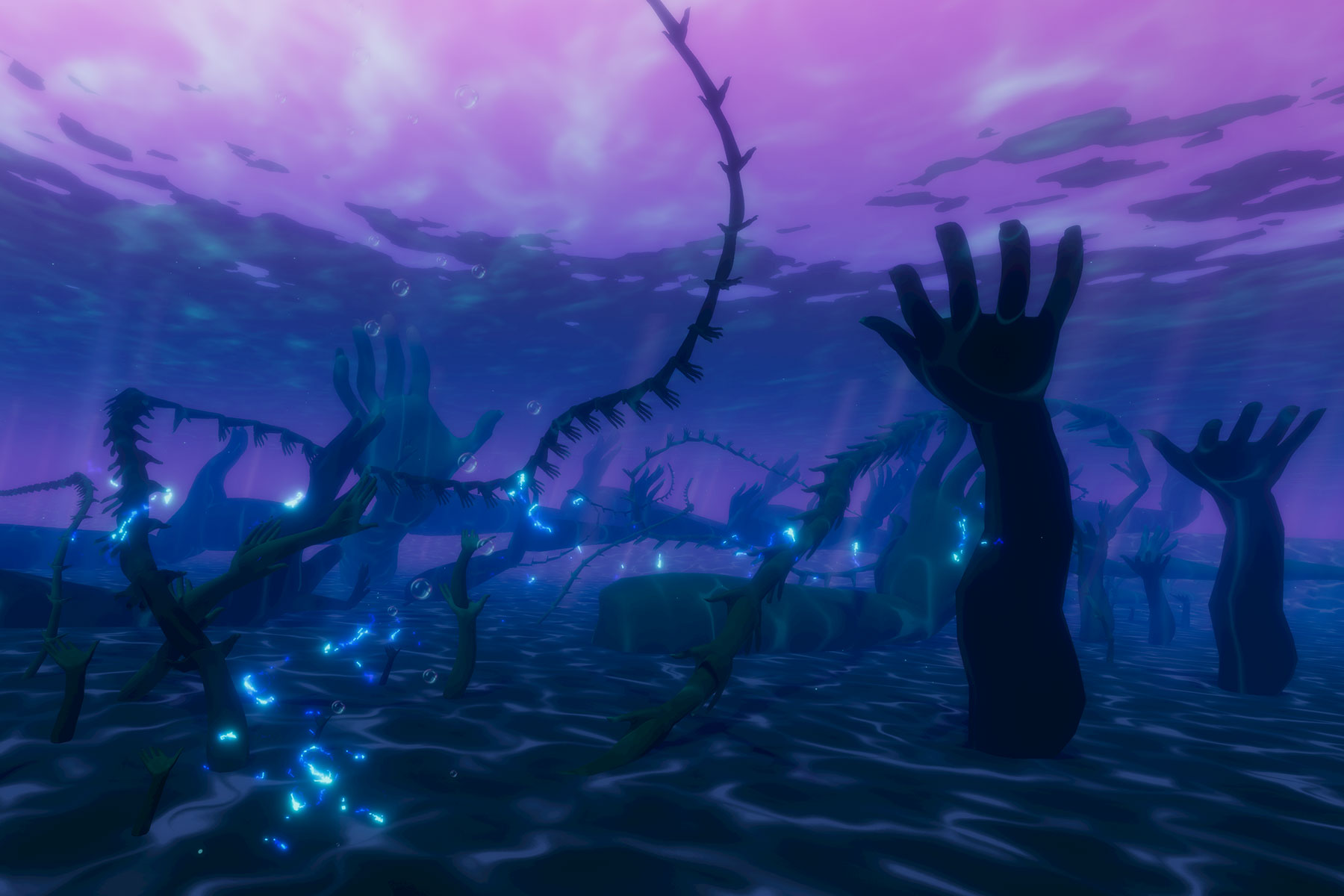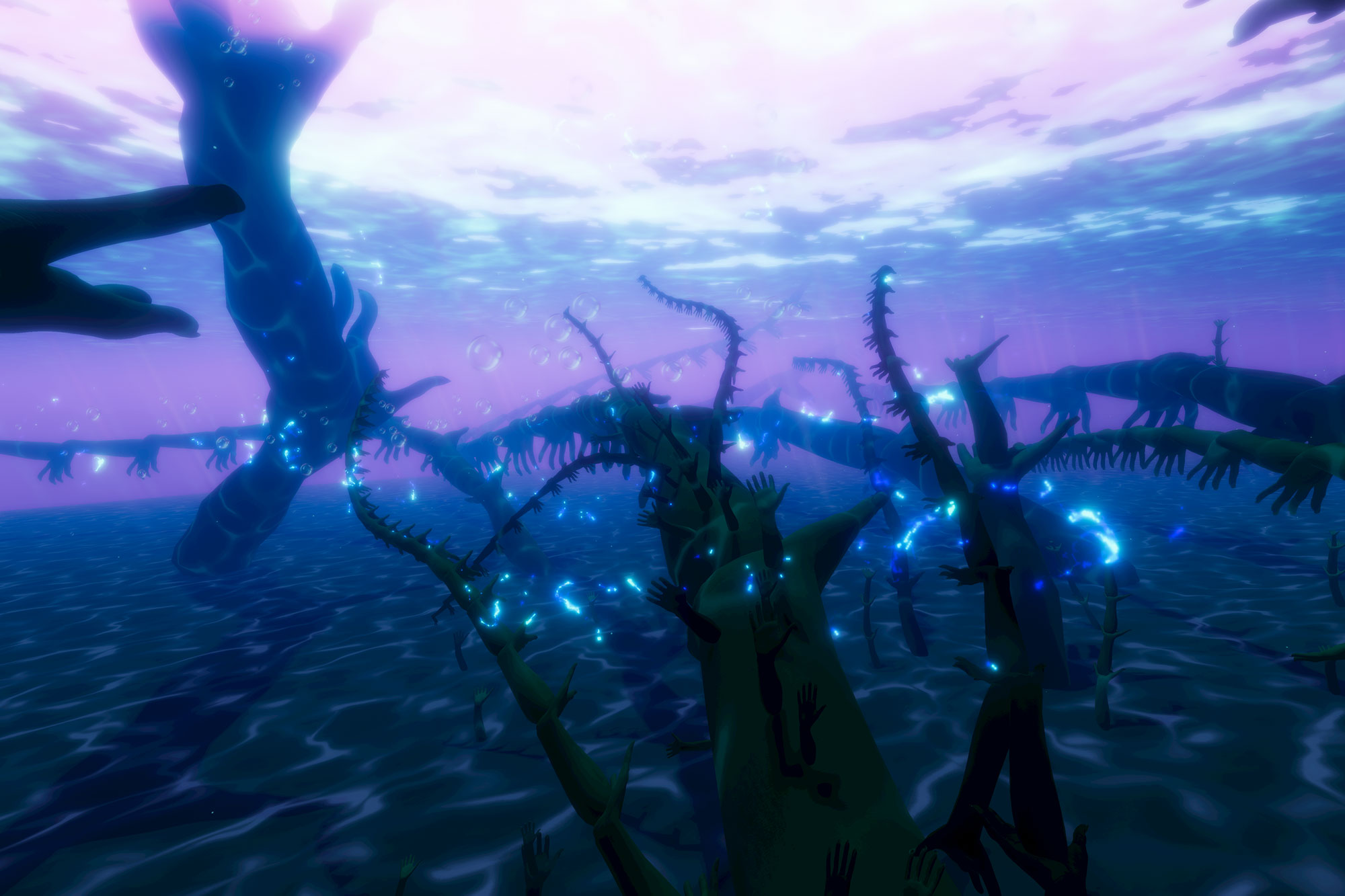 HanaHana, a collective "sandbox"
A multiplayer VR playground, HanaHana takes form as an desert plunge into an enchanting soundscape. Each player uses his vital energy to generate giant hands of varying sizes and colours.
Blossoming here and there, these pieces of limbs—players' body extensions—become blocks of construction for surrealist architectural structures. In the "multi-bloom" version, every individual transforms the virtual environment through his journey with his constructions and participates thus in the creation of a collective artwork that is always different.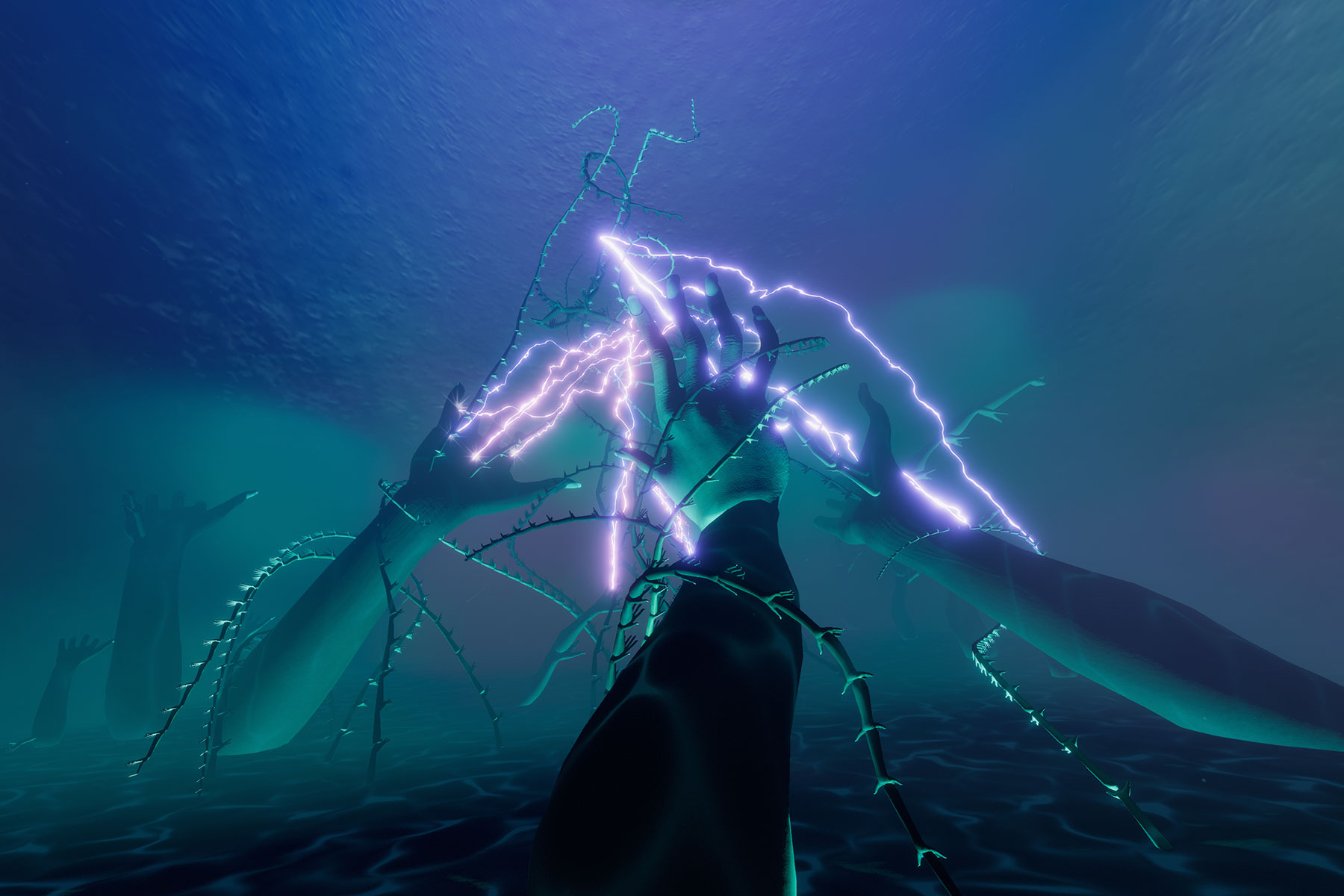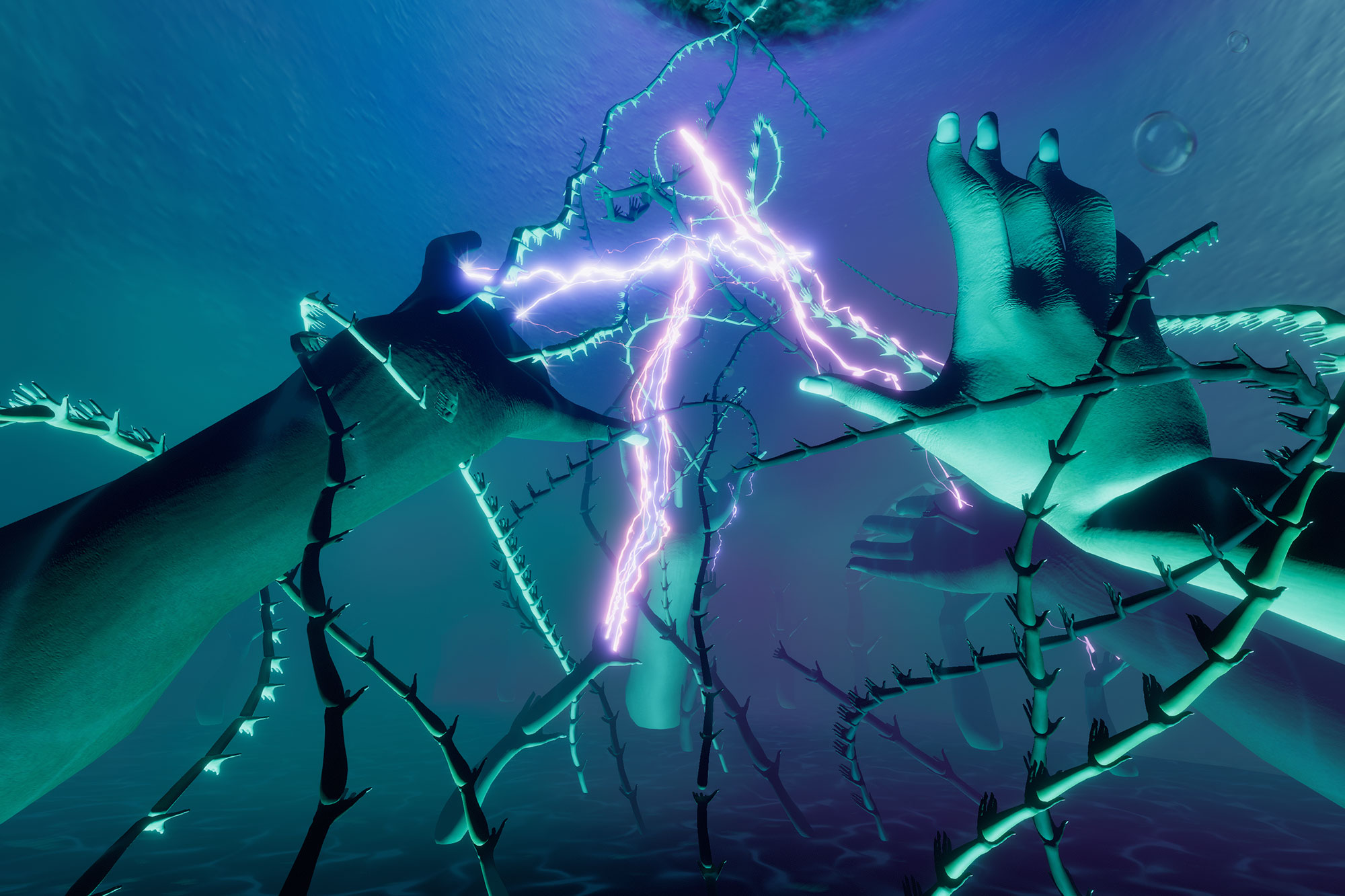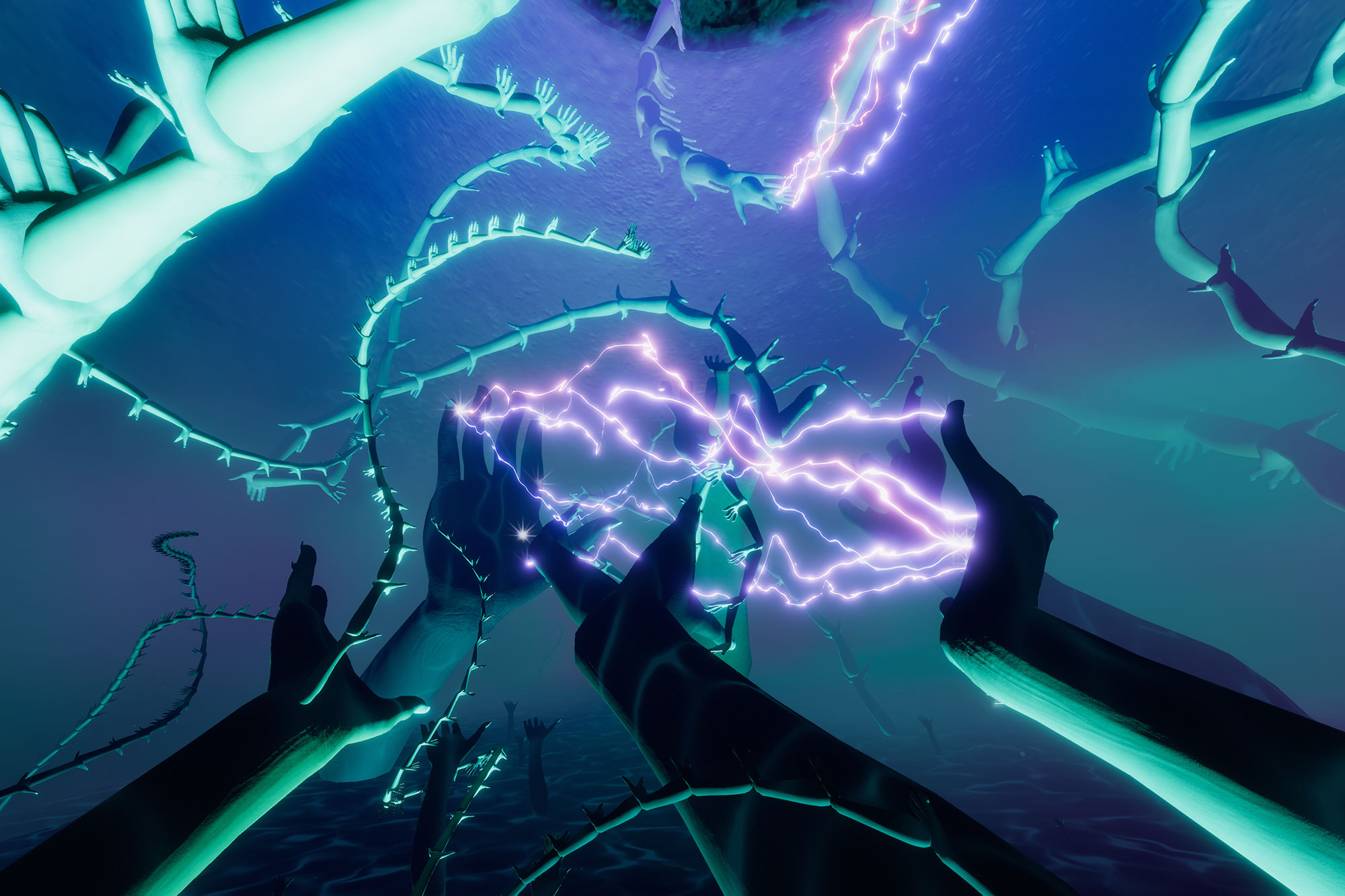 An ever-changing experience
HanaHana has been in constant evolution since 2016. Always working on giving new visual and technical properties to it, Mélodie Mousset and her team propose each time an enhanced version of the experience.
By exhibiting HanaHana connected at the same time in Paris at the Swiss Cultural Centre, Swissnex in San Francisco, the DOK festival in Leipzig and The Wrong Biennale in Bucharest, Mélodie Mousset activates even more the collective aspect of her work. If each individual can intimately experience the vision of an augmented-self, every player participates in a common creation.
About Mélodie Mousset
Mélodie Mousset (*1981, Abu Dabi, lives in Zurich) studied at the School of Fine Arts of Rennes, at ECAL (Lausanne), at the Royal College of Arts (London) and completed her training with a Master of Fine Arts at CalArts (California Institute of Arts) in 2011.
Since 2010, her work has been exhibited worldwide in galleries and institutions including the MOCA (Museum Of Contemporary Arts, Los Angeles), the Kunstmuseum Stuttgart, the MAC (Musée d'Art Contemporain, Lyon), The Metropolitan Art Society (Beirut) and the SALTS (Basel).
In 2015, she won the Swiss Art Awards. HanaHana, presented at the Zabludowicz Collection (London) in 2018, received seven awards, including the Best Virtual Reality Artistic Experience Award at the VR Festival (Beijing), the Best Artistic Achievement Award at the VR Days Festival in 2017 and most recently the Visions Award at the VR Arles Festival in 2019.
Among his recent solo shows, the artist presented Intra-Aura in 2018 at the Last Tango (Zurich). HanaHana was exhibited at the V Glavnom Gallery (Tomsk, Russia) in 2018 and at the Roehrs & Boetsch Gallery (Zurich) in 2019. She will soon be exhibiting at the Swissnex (San Francisco).
Information and contact
You are interested in exhibiting HanaHana ? Contact us here: tour@fabbula.com
About
Fabbula is a cultural practice dedicated to immersive media (virtual reality, augmented reality, mixed reality). We curate art shows, represent artists and advise cultural institutions.