The Jellyfish is a new collaborative work by Mélodie Mousset (HanaHana) and Edo Fouilloux that invites audiences to dive into the deep water of their consciousness in a mesmerizing, interactive virtual reality soundscape.
In a dream-like state underwater, visitors in a VR headset encounter ghostly marine creatures, glowing jellyfishes, beckoning for participants to sing through them.
Singing with The Jellyfish
You find yourself immersed in a serene aquatic soundscape. In the distance, you notice a marine life, composed of what look like jellyfishes, swimming smoothly all around you. If you look at one of them, it comes closer to you.
With your gaze, you can connect with a jellyfish. By moving your head and your body, you understand that the jellyfish is acting like a mirror, following your every movement. If you talk to it, you hear your own voice transformed.
The jellyfishes and their environment react to your voice. A swarm of jellyfishes will start to echo and harmonize with your voice in a loose melody, encouraging you to start singing with them. You will spawn baby jellyfishes and trigger rhythmic elements to accompany your chant.
By interacting with a different jellyfish, you will discover that it will transform your voice in a different way. If you remain silent again and ignore the jellyfish, he will swim away from you.
When several persons sing at once next to each other, a choir forms, combining sounds of human voices and jellyfishes harmonies.
Listen to the artist talk about the artwork
Specifications & Features Software
Real-time voice analyzer
A tailor-made synthesizer is driven by real-time voice analysis measuring the immediate pitch amplitude, tonality and phrasing of the singer's voice.This influence the surrounding soundscape, affecting colors, animation, harmonic, rhythmic and spatial qualities.
Sing a color
A system attributes a different color to each note on the scale, allowing the singer to visualize his voice and control his tone by changing the sung color and experience the feeling of synesthesia.
Synchronized tempo clock (multiplayer only)
Rhythmic elements are synchronized across all the headsets encouraging some togetherness in a case of choir of players.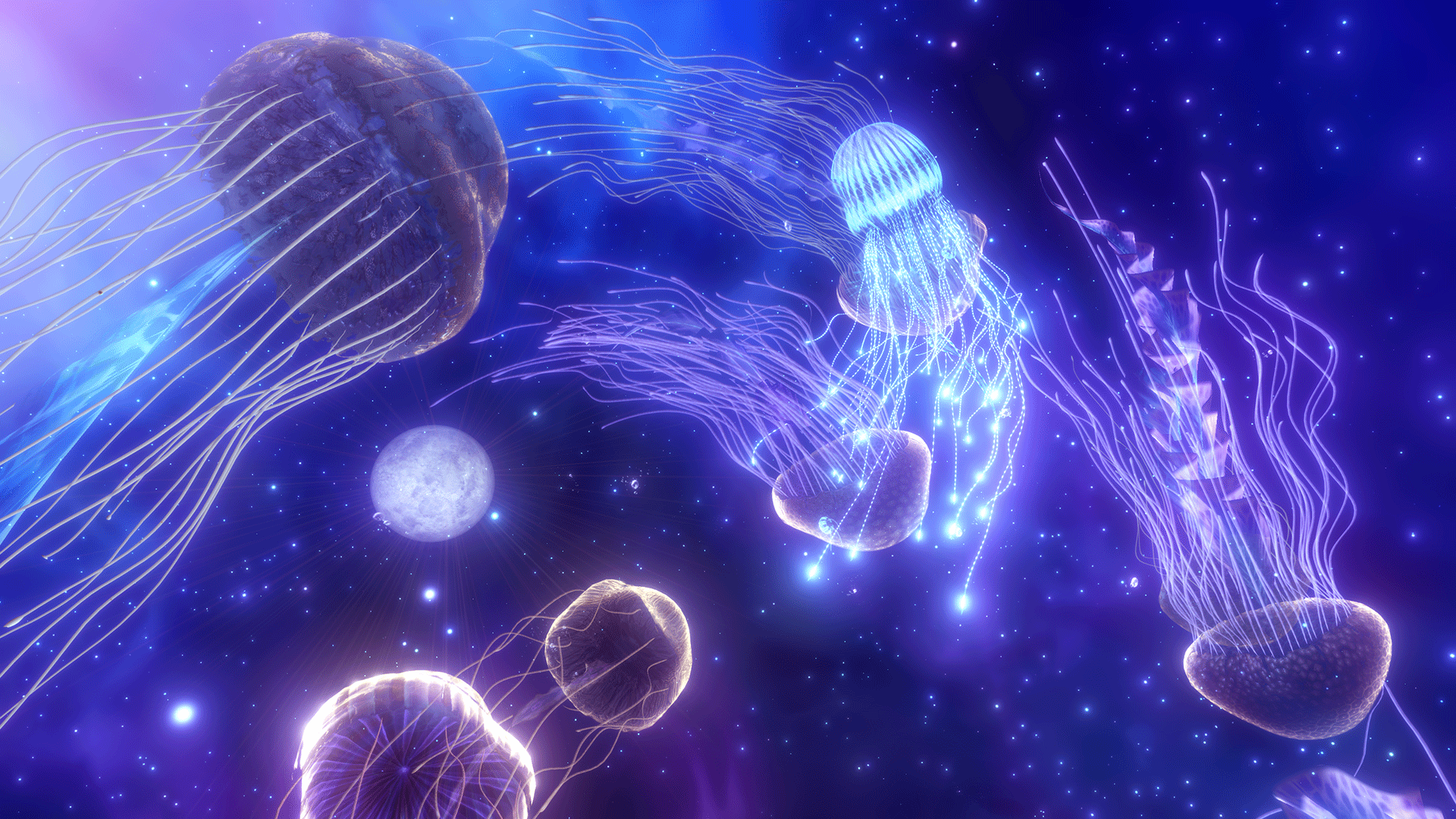 Exhibition Formats
Simple Presentation
The Jellyfish is available for Oculus Quest and HTC Vive and shown as a standing, still position in an private or public exhibition space.
The "choir" multi-user presentation
A presentation with several visitors singing in the same space is a desirable possibility ; each one creating their own notes and harmonies, while outside onlookers observe this strange virtual choir, harmonizing with virtual non-human entities. A large scale art installation is being planned for production, which feature a large scale projection surrounding headsets.
Required space: 1,5 sqm per 1 user
Spectators per session: 1 to 20 concurrent sessions
Performance run : 10 minutes approx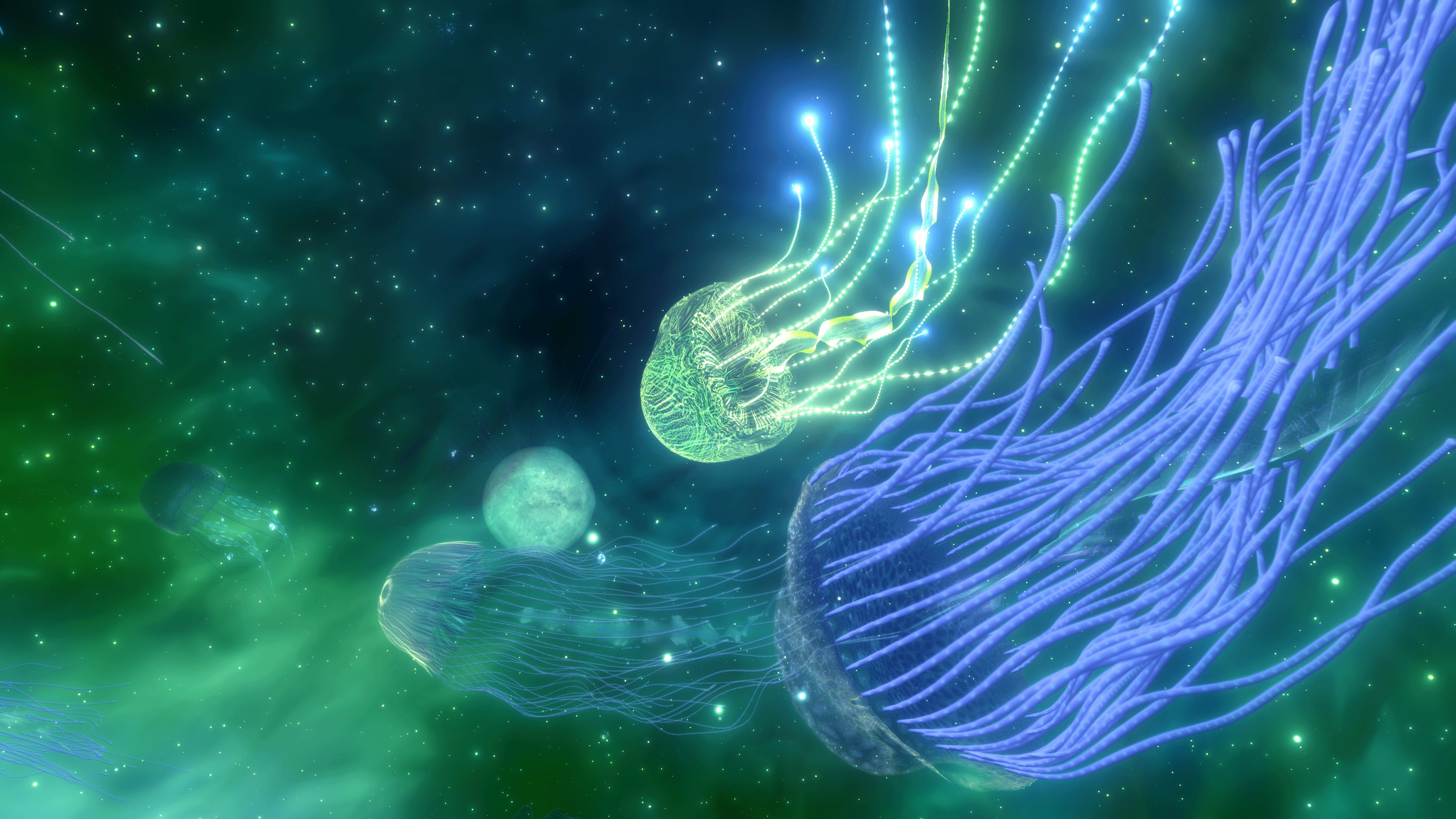 About the artists
Mélodie Mousset
Mélodie Mousset's practice extends across a number of mediums, including installation, performance, photography, sculpture and virtual reality. Her research draws upon personal biography to produce playful and psychologically charged narratives that investigate the interactions between the self and technology.
Mousset's work is often meant to challenge the senses; elements are juxtaposed and transformed to create eerie and whimsical assemblages in which the body becomes a site for physical and spiritual exchanges with technology.
Mélodie Mousset studied at the EBAR (Rennes), ECAL (Lausanne), RCA (London) and completed her Masters of Fine Arts at CALARTS (Valencia). Her work has been exhibited at institutions and galleries worldwide, including CCS (Paris), MOCA (Los Angeles), Bund Museum (Shanghai), The Metropolitan Art Society (Beirut), SALTS (Basel) and will be soon presented at Helmhaus (Zurich).
She received the Swiss Art Award in 2015 and her latest multiplayer virtual reality artwork HanaHana, exhibited at Hek (Basel), Kunstmuseum Stuttgart, Zabludowicz Collection (London), Swissnex (San Francisco) among other venue, won eight awards, including a Golden Halo award for "best artistic achievement" at VR days Europe, "the best artistic experience" from Beijing VR festival and recently the "Vision Awards" from VR Arles festival (2019).
Mousset is a public speaker and a visiting professor. She founded HanaHana Gmbh in 2019 and co-founded Patch XR in 2020, a software house specialized in creating interactive music driven experiences for XR.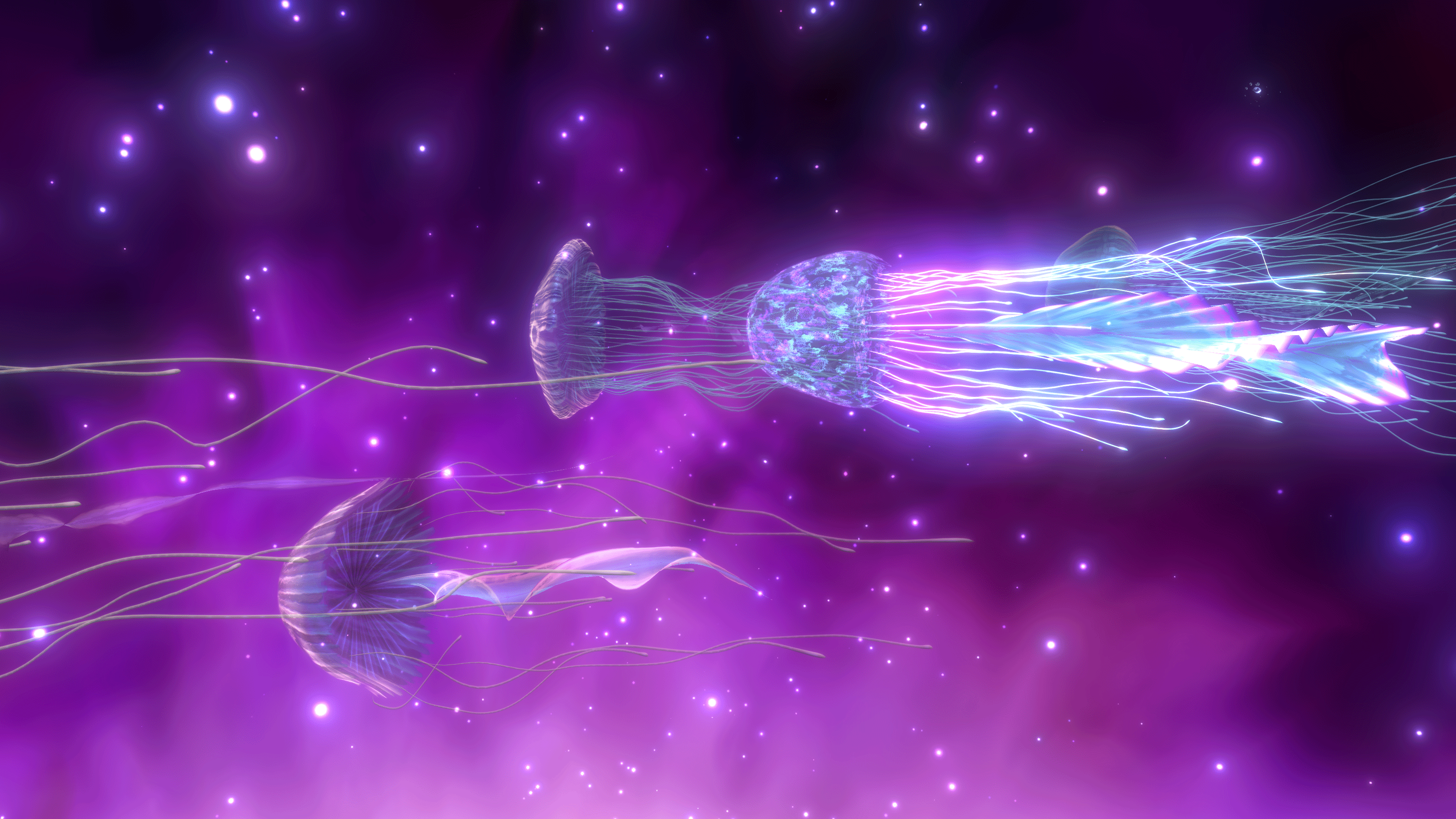 Edo Fouilloux
Edo Fouilloux is a visual mind exploring sound, graphics, and playful interaction within immersive media. Since 2015, he has worked alongside research institutions, projects, and people around the world, seeking to expand new horizons of flow and immersion. His goal is to forge new ways of thinking and playing with real-time interactive audiovisuals.
Edo Fouilloux is the director and co-founder of Patch XR, a software house specializing in creating musical tools and playful experiences for Extended Realities (XR).
About
Fabbula is a cultural practice dedicated to immersive media (virtual reality, augmented reality, mixed reality). We curate art shows, represent artists and advise cultural institutions.