May the moon meet us apart, may the sun meet us together is a new virtual reality experience and video by Rindon Johnson in which we encounter a series of ocean dwelling creatures named Bists.
The piece will be presented as part of the fifteenth anniversary exhibition of the Julia Stoschek Collection Düsseldorf, curated by Hans Ulrich Obrist, Worldbuilding: Gaming and Art in the Digital Age. From June 5, 2022 to December 10, 2023. May the moon meet us apart, may the sun meet us together is part of Fabbula's 'Worlding with the Trouble' commission programme.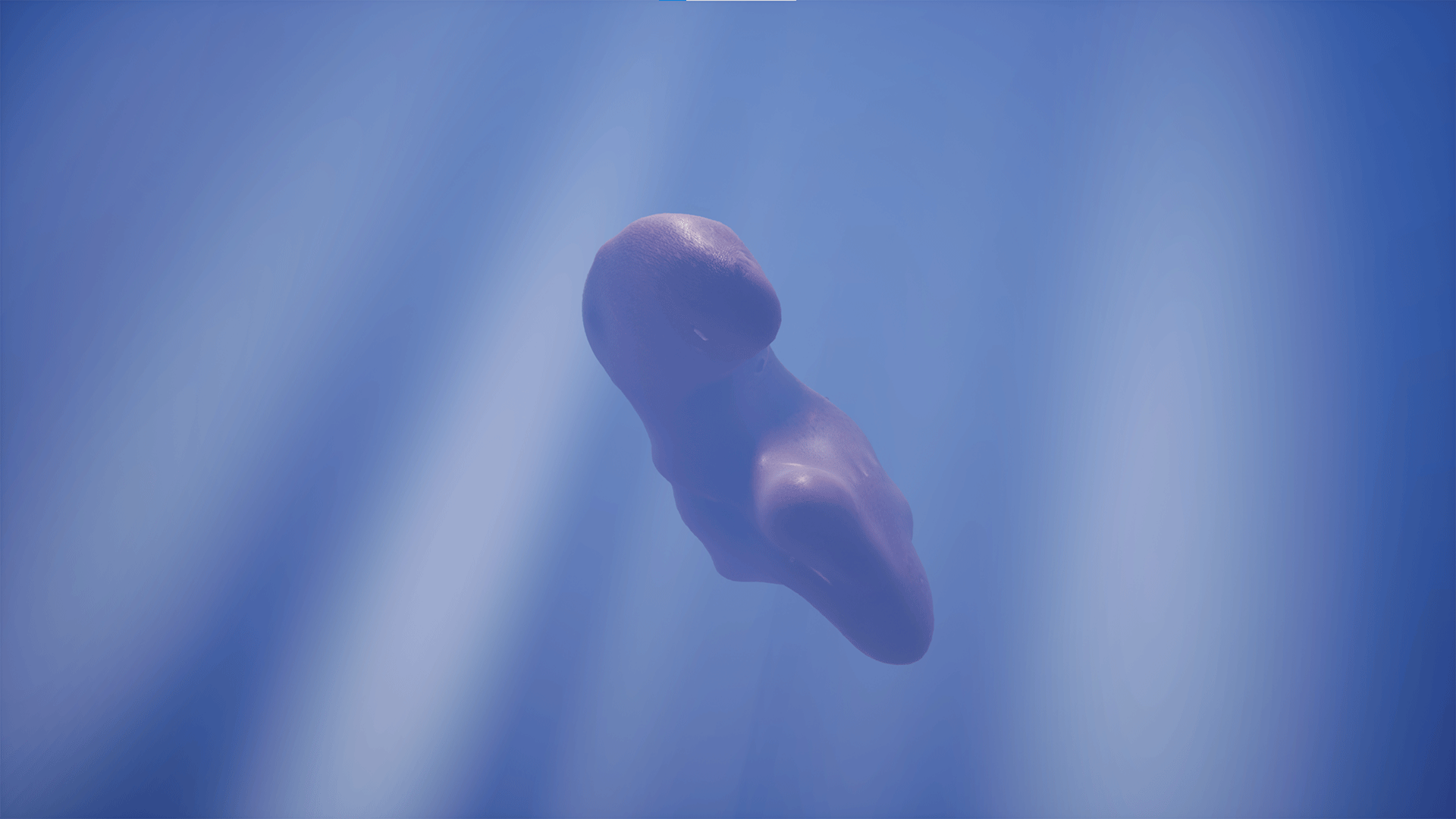 Words by Rindon Johnson
Recently, around the planet, Octopuses have been meeting in large groups. They arrive multiplying, sliding through one another, acknowledging one another through their tentacles, overlapping and gathering into huge masses of octopuses; then as suddenly as they arrive, they dissipate.
The octopus feels through their entire body, they move through the world with an intelligence that surrounds their being and is not centered on one particular point, they feel completely, wholey. Thinking about their thick present, one I've tried to tune my own reality to, layered, nuanced, heaping with change and interaction.
How does the octopus love? How are they intimate? How do they show love to one another through their hyper emotional bodies? How do they approach the endlessness of the ocean in relation to finding a moment of being with another of their species? What can we learn as we try to love and express love as multivalent beings? With our planet changing and our relationships to one another morphing, deepening, what new ways can we feel close to other beings?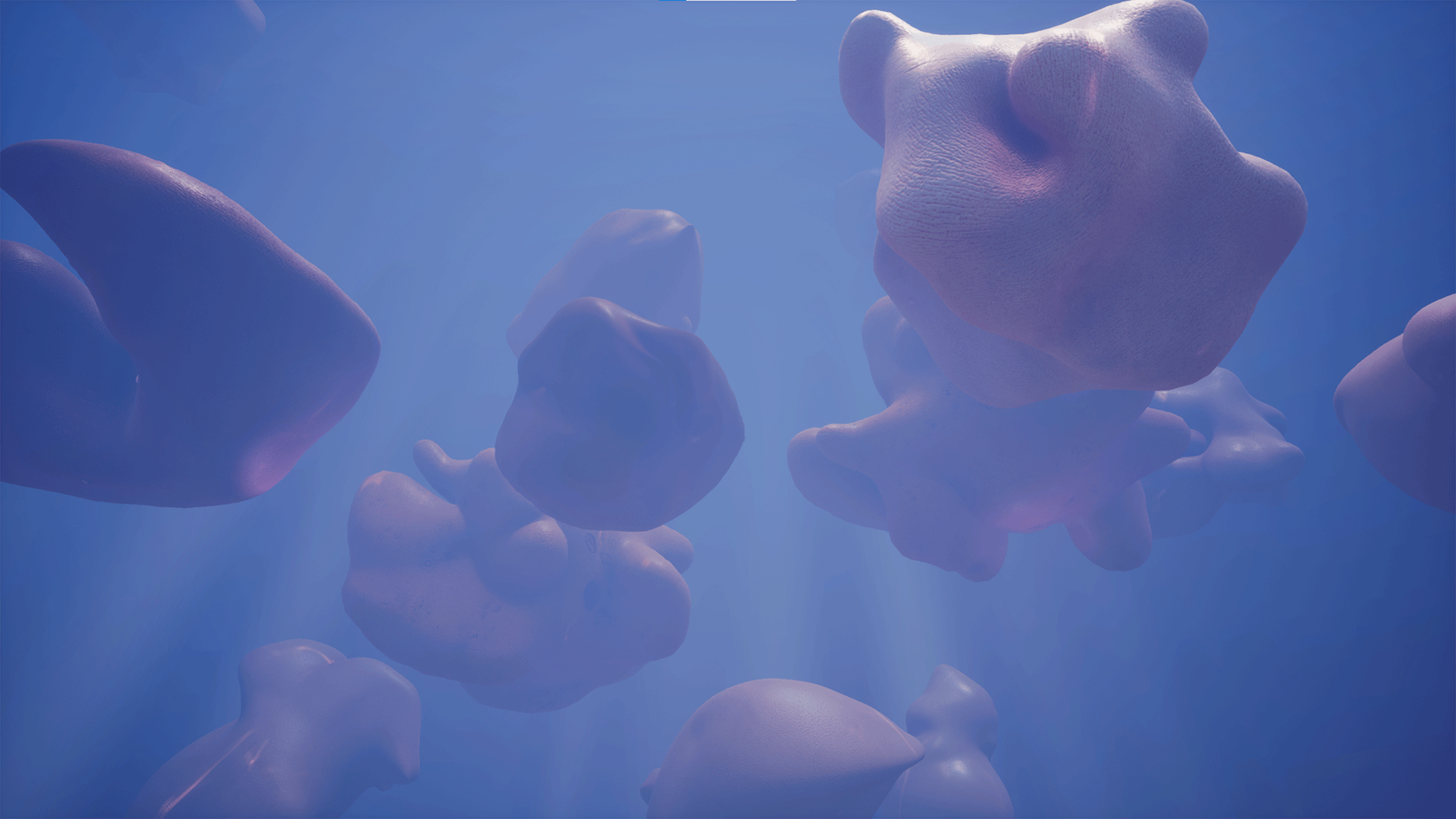 Named for a proverb which is mysteriously said in parts of Africa, the US and Northern Europe, May the moon meet us apart, may the sun meet us together hopes to provide for its viewers a new form of physical intimacy with a series of limbless ocean dwelling creatures named Bists. The viewer finds themselves without a body, floating in a gentle, placid ambiguous sea. Slowly, a few Bists arrive. These orby gelatinous critters slowly multiple, rubbing up against one another.
The fluidity of the octopus and the fluidity of the Bists, of their meeting, of their nameless, full body emotions speak directly to the necessary entangling I believe is crucial to live within our multivalent every changing planet, to maintain a presence and openness. As I look to draw a portrait of a form of love and desire that speaks to what I feel is a necessary reimagining not just of how we relate to other beings on the planet but how we relate to forms of desire and control. I look to the meeting of the octopuses and I see that we must become used to the event as a form of cherishable catharsis, we must feel deeply, reaching our hands out, swimming slowly, feeling the hairs, the skin, the pores of our fellow beings, spinning and commingling into the future.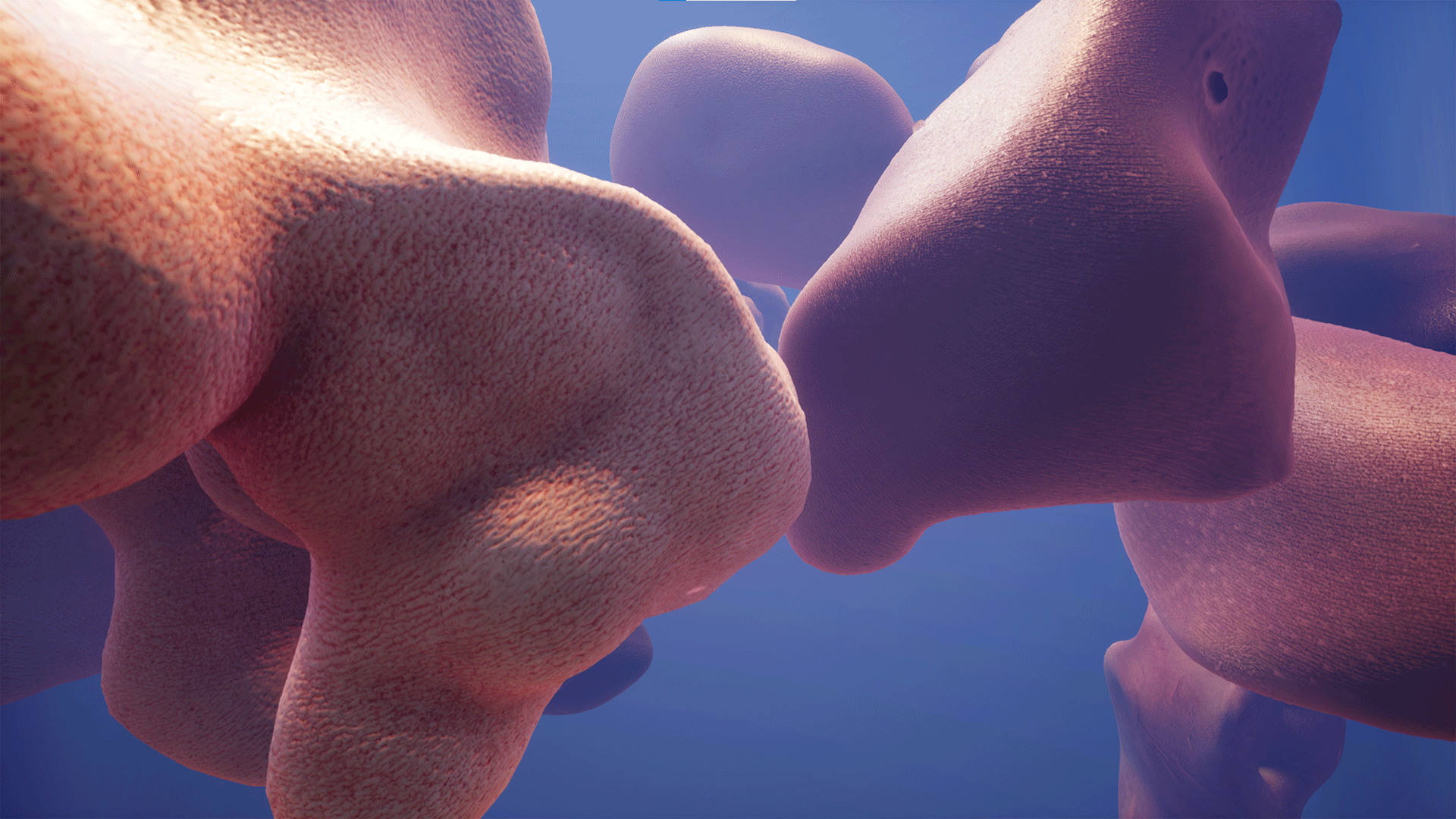 A Poem & Abstract
The starting point of the artwork is an intimate and incongruous encounter in a plane. A poem telling this story accompanies the piece.
A sentence is "what comes between two full stops." The sentence is an empty container. A unit of prose. Everything is in a manic unending together. I found this a very tiring thing to both learn and discover for myself: the things that unmake me, undo or unravel me, will likely always do so in one way or another, it means I'm in a long cycle of being wound and unwound. This thing happened to me on the plane to New York this last time where I found myself sitting next to someone who found me cute from the moment we sat next to each other and since it was the kind of flight where it is expected that you sleep on the flight we found ourselves faced with the opportunity of sleeping next to each other and after we were served what could have been called pasta and I drank a red wine at what my body believed was noon, they looked at me and very casually took the armrest separating our two seats and lifted the armrest up allowing our arms to touch and our knees to knock lightly against one another while simultaneously giving us both much more room than our economy plus seats advertised but to get all that room we had to be ok with touching one another and we were and we just did that: closed our eyes and rubbed up against one another in our sleep, grazing, touching, until exactly one hour before landing in Newark when the harsh house lights of the plane came on, revealing how deeply we had intertwined ourselves with one another and we had no shame about it, gently untangling, opening the shade to reveal daylight and I asked the steward for a coffee and they for a black tea and we both went through customs without issue and they didn't have a checked bag and I watched them walk away as I waited for my bag to clunk out off the conveyor belt on to those familiar metal fans of the waiting baggage claim, pulling in and out of triangles, exhaling around each turn. I wondered briefly where they were headed.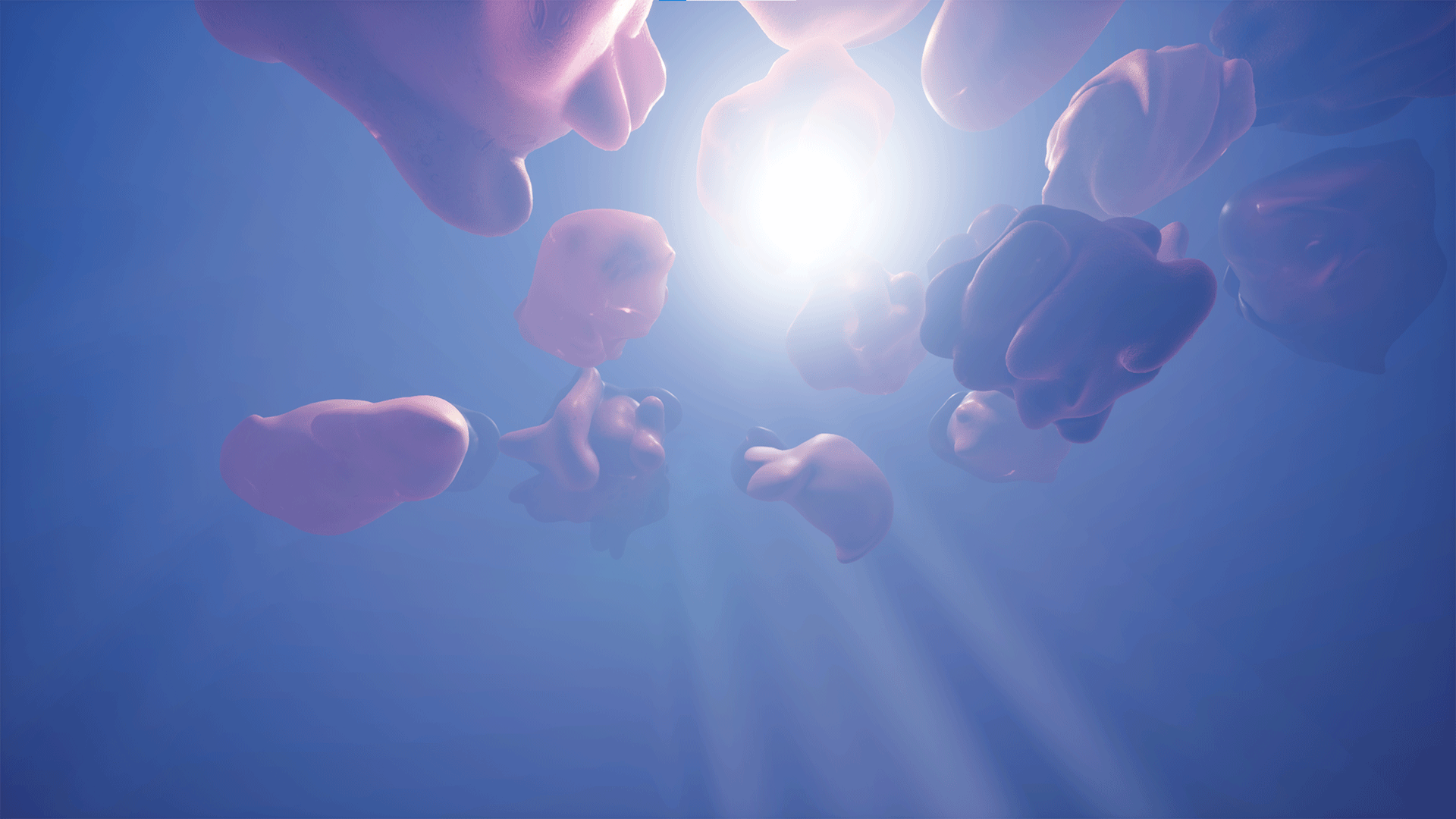 About Rindon Johnson
Rindon Johnson is an artist and writer. He was recently shortlisted for the Future Generation Art Prize. He lives in Berlin where he is an Associate Fellow at the Universität der Künste Berlin.
In 2021, Johnson opened two pendant solo exhibitions; first in winter at SculptureCenter (New York) and later in autumn at Chisenhale (London). He is the author of Nobody Sleeps Better Than White People (Inpatient, 2016), the VR book, Meet in the Corner (Publishing-House.Me, 2017), Shade the King (Capricious, 2017) and The Law of Large Numbers: Black Sonic Abyss (Chisenhale, Inpatient, SculptureCenter 2021).
Johnson has participated in group shows at Brooklyn Museum; Literaturhaus Berlin; FACT Liverpool; National Gallery of Victoria Melbourne and Haus der Elektronischen Künste, Basel – among others. He has performed at Artists Space (New York), MoMA PS1 (Queens, New York), Human Resources (Los Angeles) and The Poetry Project (New York) – among others.
His writing has been published by Artforum, Cultured, ICA Miami, Dazed, The New Museum and Rhizome – among others.
Credits
May the moon meet us apart, may the sun meet us together was produced as part of Worlding with the Trouble, a commission and production programme initiated by Fabbula to support artists and thinkers to practice new ways of worlding. The piece was created with Unreal Engine thanks to the support of an Epic MegaGrants and CNC's Dicréam in France.
Written and directed by Rindon Johnson
Animation by Pariah Interactive
Assets by Jessica Wilson
Soundtrack by Anthony R. Green and The Honourable Elizabeth A. Baker
Commissioned and produced by Fabbula
Represented by François Ghebaly
About
Fabbula is a cultural practice dedicated to immersive media (virtual reality, augmented reality, mixed reality). We curate art shows, represent artists and advise cultural institutions.